AIMS PV265POLY 265W Solar Panel, Polycrystalline - Pack of 6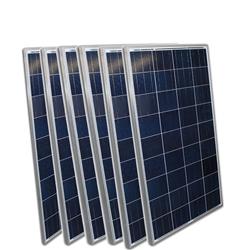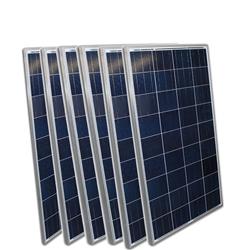 Our Price:
$298.84
You Save $89.65 (30.00%)
---
Manufacturer Part #: PV265POLY
Lead Time: 1 Day
Estimated Shipping Cost: $275.00
The 265 Watt 24 volt Solar Panel from AIMS Power. The Tempered glass covered PV Cells protects the panel from hazardous weather. The panel comes with a black pre-drilled aluminum outer frame suitable for mounting in various ways. This panel is perfect for home installations, vehicle and RV installations as well as industrial applications. It can be used in parallel and series to suit your voltage needs. Buy multiple panels to power your whole house or reduce your power bill for off-grid or on-grid living. This new model is more compact, more efficient and lighter weight than the previous model, giving you valuable space savings on the roof or whatever your mounting options . They are CEC, UL and ETL approved meaning they've passed the most strenuous tests and are approved for use for any application. Mount them on your truck, boat, home, RV.
Features
Tempered glass
EVA resin
Weatherproof film
Aluminum frame for extended outdoor use
Pack of 6
Made in USA
Specifications
Maximum Power: 265W
Optimum Power Voltage: 30.9 volts
Optimum Operating Currrent: 8.98A
Open Circuit Voltage: 38.3V
Short Circuit Currrent: 8.98A
Solar Cell: 156 x 156 Poly
Number of Cells (pcs): 6 x 10 pcs
Front Glass Thickness: 3.2mm
Allowable Hail Load: 23 m/s, 7.53 g
By Pass Diode Rating: 12A
Cell Efficiency: 16.77%
Module Efficiency: 15.37%
Warranty: 91.2% of 12 years, 80.6% of 30 years
Standard Test Conditions: AM1.5 1000W/m 25 +/-2&&deg
Cable Length On Solar Panel: 41 in.
Temperature Coefficients of Isc (%): 0.056 ° C
Temperature Coefficients of Voc (%): -0.33 ° C
Temperature Coefficients of Pm (%): -0.43° C
Temperature Coefficients of Im (%): 0.04 ° C
Temperature Coefficients of Vm (%): -0.35° C
Temperature Range: 40 °C to + 85 °C
Dimension: 64.96 x 39.25 x 1.57 in.
Weight: 130 lbs
You May Also Like